Do you love your home exactly the way it is? Are there areas of your home you'd love to renovate and items you'd love to include? As your family grows and your life changes, the way your home functions also changes. There are definitely things I wish we included in our home when we built it fifteen years ago.
Our first home was a one-hundred year old Victorian in central Massachusetts. The interior of the house clearly showed signs of renovations throughout the decades – like the layers of flowered wallpaper in every room, the recently-painted eight-inch woodwood, and the brown and gold (1970's) kitchen.
For four years, we renovated that entire house room by room. Our biggest projects included gutting and re-building the kitchen, moving a wall, moving the pantry, and installing a downstairs bathroom. It was an enormous project. While we were really happy with the way it turned out, after living in it for a while and seeing how our family functioned, there are things I would have done completly different today.
Regardless, when that renovation was complete, we decided to sell the house and move closer to Boston to be near my family. There, we built a New England colonial home and, at the time, included everything we thought we needed.
Fifteen years, three kids, and a home business later, there are now things that I wish we included in this home that we didn't know we needed when we built.
So if you're considering a renovation or a new build, I hope this list helps you consider things that you may not even be considering now, but may appreciate in the future.
While these may seem like luxuries, every item on the list is there because it's practical and would make our house function better, keep it cleaner, and tame any clutter – even if implemented in a smaller, less luxurious form than the photos show.
.
Double-Entry Door (Breezeway)

Every time I open our back door to let the dog out on a zero-degree winter day like today, I can't help but think about how much heat is lost through the open doorway. I wish we had included a double entry door to buffer the cold in the winter and keep the air conditioning in in the hot summer months.
.
Mudroom
At the time we built, we figured we'd be entering the house most of the time through the garage and cellar, so our coats and shoes would be dropped there when we entered. That didn't turn out to be the case.
Everyone either comes to the top of the cellar stairs and then drops their coats and shoes in the hallway or they enter the back door off the kitchen and leave their shoes just inside the door. In both instances, there's no good place to leave the coats and shoes so they end up cluttering the house.
I wish we included a separate mudroom area either at the top of the cellar stairs, as you enter the back door or, in an ideal world, inside a double-entry (breezeway) door.
.
Kithen Table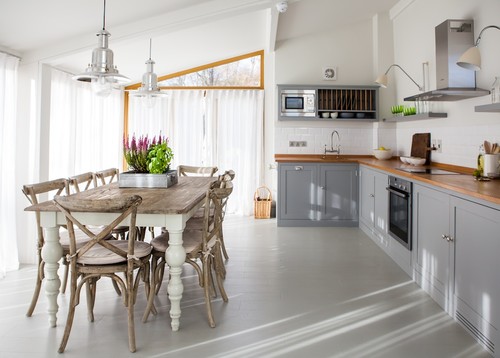 Speaking of the kitchen area, I wish we included a dedicated kitchen table. Like many homes built in the last 20 years, our kitchen and dining room are all one large open space. At the time, we figured the dining room table would be our kitchen table, so we included two large islands in our kitchen for workspace.
The problem is that even as casual as our dining room is, it's still a dining room area and we never take the twelve extra steps over to the dining table to sit together. Instead we eat at the kitchen island. This may be how every modern home is designed, but each of our islands only holds 2-3 stools and we're a family of five. Translation… we never actually sit and eat together. We eat at different times. Some of us stand and eat or we eat in the living room.
.
Two Dishwashers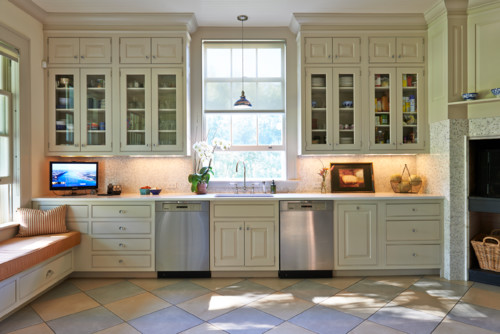 Dirty dishes in the sink is like a kink in my back. I can never relax when I see a sink full of dirty dishes. I wish we included two dishwashers in the kitchen so every dish could immediately be put into the dishwasher. Two dishwashers would also come in very handy for parties.
.
Double Oven
Thanksgiving dinner. Need I say more? Instead of the built-in oven/microwave combination we currently have, I wish we included a double oven and eliminated the microwave altogether. I really don't like the idea of microwaves and leaving it out of the kitchen design altogether seems like a healthier option.
.
Larger Stovetop Without a South-Exiting Downdraft
We currently have a thirty-inch, 4-burner glass stovetop with a center downdraft set into our countertop. Worst decision ever! There are several problems with that choice.
First, when cooking for a family of five, four burners on a cooktop can get very crowded, especially during Thanksgiving dinner.
Second, the downdraft vent is located right down the center of the cooktop and takes up too much space on the already-small thirty-inch cooktop, so large pots just barely fit.
Finally, our downdraft is vented with a pipe that leads out to the south side of our house. Don't ever do this! If you were to look at the outside of the house where that pipe exits, all you would see is a flimsy plastic flap that covers the vent hole entering the house. All of our wind comes from the south. It's zero degrees today here in New England and very breezy. That flimsy plastic cover blows open and the wind gushes up into the pipe and up into our kitchen through the stove vent!
If you were to put your hand on the stove vent, you actually feel the cold air rushing in! We lose so much heat through this hole in our house! My husband did custom-cut a wood cutting board to fit into the hole on the stove, but it's still not perfect.
.
Storage in the Study
It's important to have a closet in every room. I knew this so why did we not include one in our study/office? Instead, projects get piled up in plain view, making for a disorganized workspace if we're not careful to keep on top of the clutter.
.
Large Linen Closet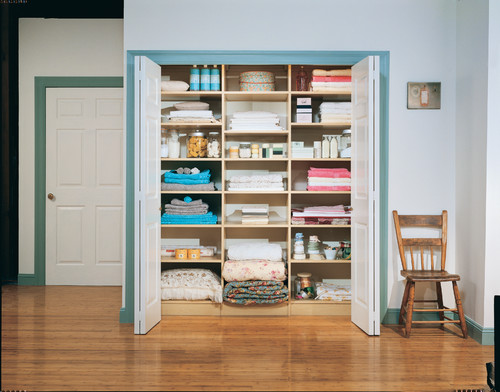 We did include a small linen closet in our upstairs hallway, which I love. Seeing how I'm not a fan of holding onto items you don't use often, a small closet that held just a few extra sets of sheets and blankets should have been sufficient. Wrong again!
A family of five from New England where the weather changes means… Five beds. Five sets of sheets. Ten extra cold-weather blankets for the beds. Three throw blankets for the livign room. Three sleeping bags. Afghans my grandmother hand-knitted that I could never give away. And extra pillows for sleepovers.
Yes, a large linen closet is essential.
.
Rainshower Shower Head
There's always one end of the shower that has that soap scum build-up and needs extra cleaning. It's the end of the shower where the water and soap hits the walls.
We designed out master bathroom with a large walk-in shower and eliminated the bathtub. It's just a large square area with four tiled walls. The shower heads are all on one end so the water never hits the walls on the other end where the towel rack hangs. Translation… the dry end never gets wet, dirty, soap scummy, or moldy.
I wish we had just put a rainshower shower head in our shower that came down from the center of the ceiling so the water barely hit the side walls.
.
Barn

A barn is on my dream list. It's not something I ever thought I'd need before I started refinishing furniture; but I would absolutely love a large barn to sand, paint, build, store, and sell furniture. A barn where I could slide open the oversized double wood doors and feel like I was working out side in the summer, but them close them and still work through the winter.
Aaaaahhhh… a girl can dream big right?
If you're considering a renovation or building a home from scratch, this list may help you include items that will keep your home organized, keep it cleaner longer, and function better as your family grows.
.
Disclosure: This post contains affiliate links.