When it comes to painting chairs, there are only two good paint options. Forget chalk, milk, and latex paint when it comes to chairs. These either will not adhere to the wood well enough to last through the use that a chair gets or they will require a topcoat. There's a much better and easier way. A one-step process actually. Read on to learn more about the only paints I ever use on chairs.
There are only two paints I use on chairs. Both have a low-lustre, semi-gloss sheen.
Oil based paint
Water-based (acrylic) enamel
Oil based paint is ideal. It adheres to the wood surfaces and any polyurethane on them. Oil based paint is the most durable paint you can buy.
However, since I paint quite a bit of furniture, I prefer to work with water-based products. So a great alternative to oil is a water-based acrylic enamel paint.
Unlike latex paint, which can take up to 60 days to fully cure, the enamel paint hardens in just a few hours and is far more durable than latex, chalk or milk paint.
If you were to leave a chair outside that was painted with latex paint, after a year (maybe less), the paint would start peeling off the wood like wallpaper from a wall. That's not what you want to see happen to your painted furniture.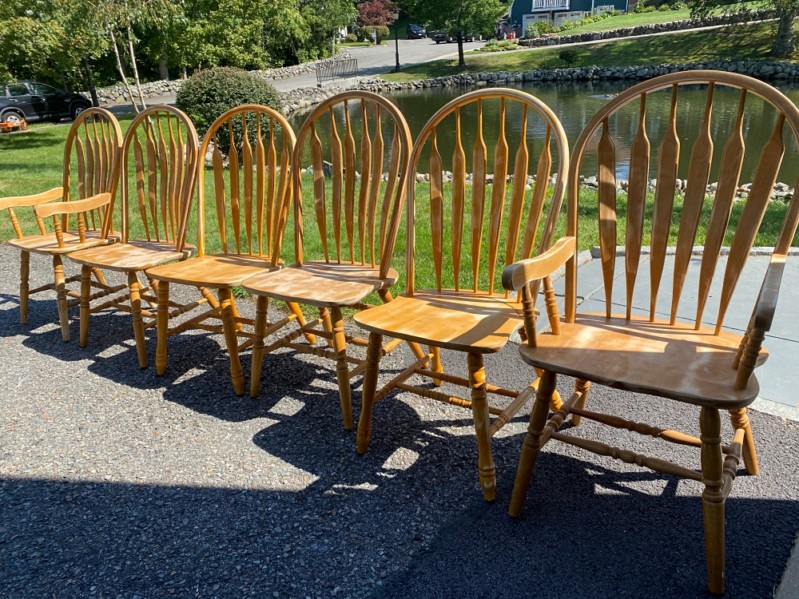 These chairs were lightly sanded. Very lightly actually. I hit the flat surfaces with my electric rotary sander (I use THIS one or THIS one) to remove some stuck on dirt, but left the poly on the spindles and legs to get a smooth finisher there.
I experimented with painting directly over the poly on THIS bed. And do you know what I found? The result was a smoother finish.
You cannot do this with all paints. But the enamel paint I use adheres so well (even to the poly) that I can paint right over it.
Wipe down the chairs to remove any sanding dust, then paint on a thin coat of the enamel paint. The above picture shows how the paint will look after your first coat. Don't panic. That will cover very nicely with the second coat. You may need to touch up with a third coat if you missed a few areas.
Note: If your paint is white or close to white, you will need a primer for full coverage, but you won't need to prime with a dark color paint.
The result is a super smooth finish that hardens in just hours (not the weeks or months that latex paint requires).
You can find out the exact brand of enamel paint I use on chairs along with tips on how to manipulate the paint for a smoother (no brush strokes) finish in my Painting Furniture ebook:
These chairs are now for sale in Entri Ways' online shop.
Disclosure: This post contains affiliate links to products I use myself.